Huobi Token (HT) appears poised to resume its long term uptrend with a recent boost from bullish MACD crossover that was confirmed yesterday with a bullish RSI crossover, and an uptrend in OBV.
It's bounced off its support zone ($4.50) and approaching resistance zone ($5.00-$5.50).  If it breaks through, we could get a nice rip.  If it's rejected at $5.00 or so, it's likely to retrace to its support and try again later.
A swing trader would attempt to Buy at Support and Sell at Resistance, then repeat.  However, swing trading is tricky and time consuming.
A trend trader would recognize the long term uptrend and find a place to commit, perhaps here when momentum is increasing.  Trend is your friend, a cliche but it's key to technical analysis.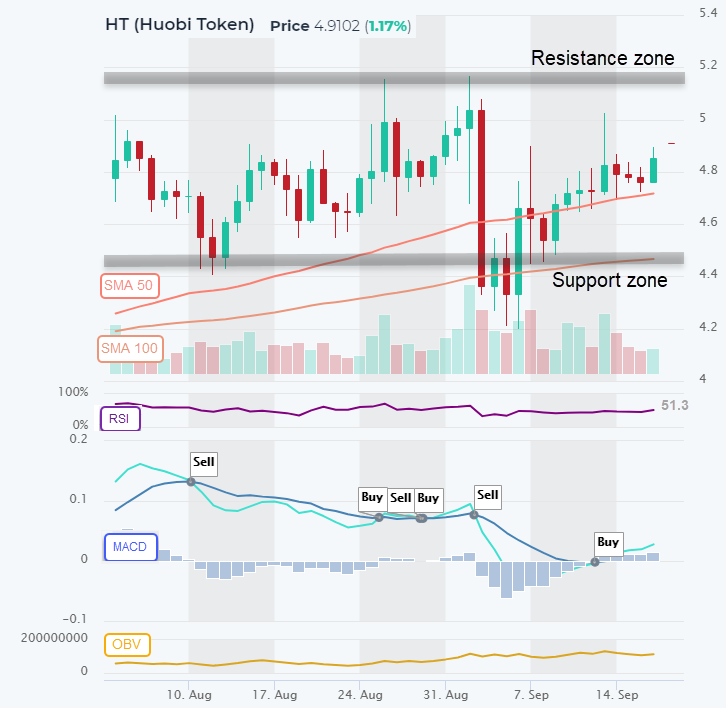 Buyers beware – you must monitor your own positions because these signals (MACD, RSI, etc.) can change quickly. You can set up alerts to notify you when your coins receive a Sell signal (MACD or RSI turns bearish). Don't rely on our newsletter for all signals, use the platform to become a proficient trader!
Risk management –
 Stop Loss and trade size. In all of these setups, traders should use Stop Loss orders to manage their downside risk, in case the trade goes against us, as it often will. Trading is about probabilities and even though these setups have a high win rate, one must be prepared to minimize losses on the trades that go bust. If Stop Loss order types are not supported by they exchange, at least set up a price alert (
see video
). Also, trade size should be such that you never risk losing more than 2% of your total equity. Keeping the trade size small allows the trader to setup a wider Stop Loss, which gives the trade more room and time to complete with success. Setting Stop Loss levels too tight can often result in getting knocked out of a trade prematurely.
Disclaimer: This content is for informational purposes only, you should not construe any such information or other material as investment, financial, or other advice. There are risks associated with investing in cryptocurrencies. Loss of principal is possible.